What kind of guidance?
Well, this really depends on you. I've been making and teaching comics for a long time, and I have a great deal of experience in guiding people through all aspects of the process of making comics, from developing an artistic style and choosing appropriate tools, to structuring a narrative, editing dialogue, character design, planning environments, pacing a story, using colour, lettering and typography to setting books up for print and finding efficiencies in your process.
It really depends on you, and I'm excited to open my experience to your projects.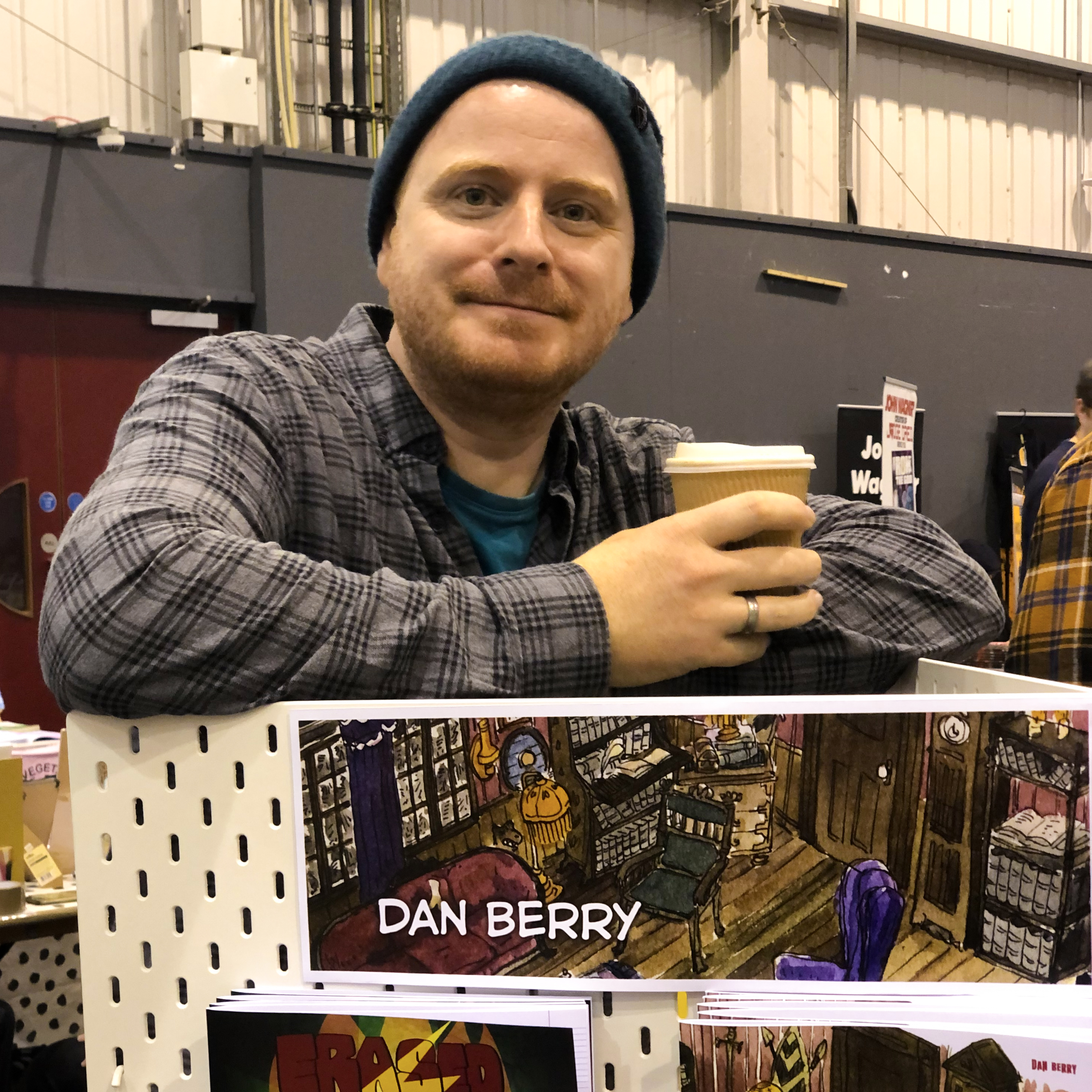 Dan Berry
Dan Berry is an Eisner-nominated comics creator, educator and podcaster from the UK. He has been making and teaching comics since the late 2000s. He is the host of the podcast Make It Then Tell Everybody, where he chats to different comics creators about how they do what they do. Between 2008 and 2019, he taught comics in North Wales, where he ran the UK's first degree course in comics. He has many years experience of teaching art, illustration, design, creative writing and comics at a wide variety of levels. He has taught in the UK, Finland, China, France, The Netherlands and he is a regular instructor at The Animation Workshop in Viborg, Denmark.
His comics have been published by Top Shelf, Fanfare, Blank Slate, and he has independently published his shorter comics. He is a frequent collaborator with writer David Gaffney.
He is now a freelance creator and educator based in Shrewsbury UK, where he lives with his wife and children. When he isn't working, he enjoys canoeing, building and playing guitars and travelling.
How does this work?
Let me know what it is that you are hoping to achieve. Send me examples, descriptions and samples and we'll schedule a chat to talk through ways to get you where you want to be.
This could involve following exercises, exploring some different approaches, trying new tools or software. I always try to keep any critique positive, and strive to keep my advice practical and achievable.
We will check back in when you have made progress to review your next steps.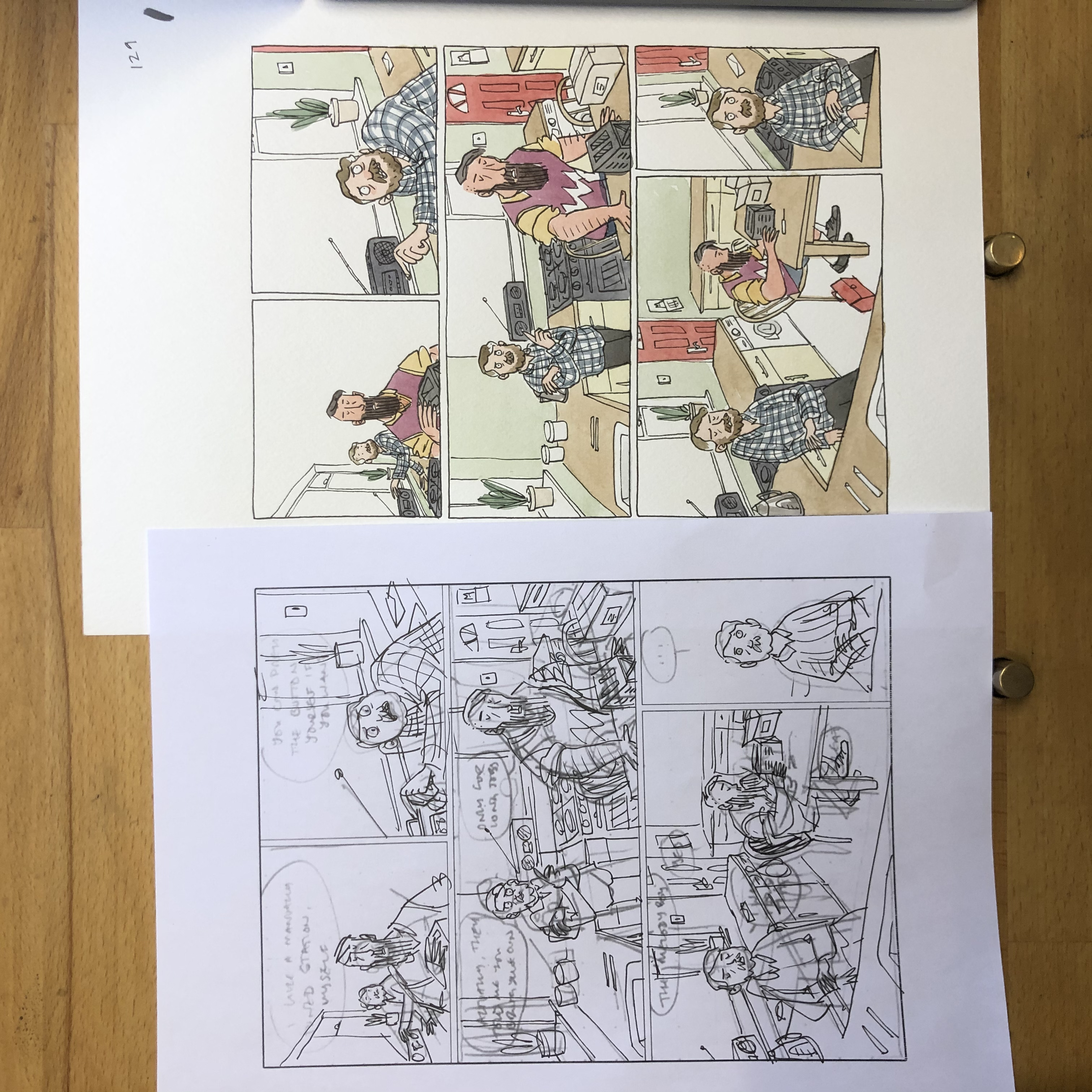 What am I actually buying?
You are basically buying an hour and a half of my time. We can break this hour and a half up however you like, though I imagine it will be broken into two - a hour session where we discuss your project and the issues you might be having, and the approaches I'd recommend and then a half-hour at some point later to follow that up. It could also be three half-hour sessions. Again, it depends on you and your circumstances.
We can fit a lot into that time, believe me.
The cost including platform fees is $144, which can be paid in one sum or split across two or three payments of $72 and $48 respectively. Whether the payment is split or not makes no difference to how we can divide the time.
What Can Dan Help With?
Including but not limited to;
Refining ideas
Story structure and pacing
Project planning and management
Tools and media
Environment design
Character design
Character acting
Dialogue and editing
Colour and atmosphere
Lettering and typography
Publication design
Production workflows
Pitches and portfolios
and more!
Thanks for submitting your information! Please continue with the checkout process.
Frequently Asked Questions
Is the time it takes you to read my stuff and make notes included in the time I'm buying?
Heavens no, what kind of monster do you think I am?
Your art style is very different to the style I work in. Are you sure you can help me?
You bet! I've been teaching for a very long time, and I've worked with an enormous variety of artists, working with a huge range of styles, approaches and stories.
Is there anything you won't work with?
Yes. If you or your work is sexist, racist, homophobic or transphobic at all, I'll issue a refund and you and I are done.
Can I get a refund if I'm unhappy with your advice?
If you are unsatisfied, or we don't hit it off creatively, I'll refund the proportion of time remaining.
How do I schedule my appointment?
Upon making a purchase, you'll receive further instructions on how to book a time for your appointment.
Can I purchase more time with you?
Absolutely! If you find you want more time with me to work through a different aspect of your work, simply purchase the mentoring again.